Overview
Welcome to EDDL 5131! This will be an opportunity for you to develop your skills in creating effective educational media and designing media projects for students. This week we will begin by creating an online learning community. You will start your WordPress blog, and we will explore one timely topic in educational media.
Please view the instructor's introduction to EDDL 5131 video.
This week is also your time to become familiar with the course structure. Take a look at the general layout of this learning environment, the learning outcomes and assignments, and the sequence of topics.
EDDL 5131 is more than a collection of resources and activities. To get the most from this course, communication is crucial. This means visiting, reading, and commenting on posts from other learners, asking questions when you aren't sure about something, and sharing your knowledge and expertise when it will benefit others. The community is what makes this course an exceptional learning opportunity.
Learning Outcomes
When you have completed this week, you should be able to:
Discuss educational media.
Make basic configuration choices on a WordPress site.
Write portfolio posts on the course site.
Activity 1: Introductions
Let's start by getting to know each other. Share some information about yourself, including:
Your name
Where you teach or what educational role you are in
Your prior experiences with educational media
If you are comfortable with it, share any of the following:
Challenges you foresee in this course
What you want to achieve in this course
A link to a piece of media that inspires you (a video, image, podcast, etc.)
You have two options for sharing this with the rest of the participants. You can write a short portfolio post introducing yourself, or you can make a short video on the Flipgrid created for this activity (https://flipgrid.com/eddl4858, password 4858). Of course, you can do both if you wish.
Activity 2: Set-up Your Portfolio
Your main activity for this week is to set-up your student portfolio site, and configure it as you see fit. You should be able to find your way to your portfolio once you log into the course site. If not, please contact the instructor. Your personal portfolio within the course is essentially the same as any personal WordPress site so many provided tutorials will be for WordPress. By the end of this week, you should be able to write and publish a portfolio post, add a category to a post, comment on another learner's post, and approve comments on your own portfolio.
You should have already received information about your personal portfolio site when you were invited to join this site. If not, please contact your Open Learning Faculty Member.
You can find tutorials on setting up your portfolio (which is essentially a WordPress blog contained within the course site) at:
https://kumu.tru.ca/WordPress_for_EDDL
Activity 3: What's New in Educational Media
This activity introduces a current or newsworthy topic in educational media along with one or two discussion questions.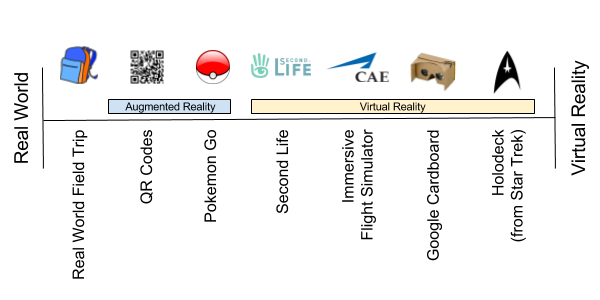 Virtual reality and augmented reality are two terms that awkwardly anchor major points on a range of technologies that integrate the real world with a virtutal world. These range from simple connections from the physical world to the digital like QR codes, to fully immersive environments within a VR headset. Possible educational applications for technologies on this spectrum have been investigated for many years and VR has been on the list of 'just around the corner' educational technologies several times in the past decade.
The sudden pivot to online learning of the last year has reawakened interest in exciting technologies that might provide even better engagement than the classroom. Some post-secondary schools have considered VR technologies as a way to differentiate their programs within an all-online sector. Many educators have argued for quick adoption of various VR/AR technologies without considering the work needed to develop such materials and effectively integrate them into curriculum.
Read the following blog post and respond to the questions in the Week 1 Activity 3 discussion thread.
Southgate, E. (2020). Virtual Reality in school education: Australia leads the way with groundbreaking research. EduResearch Matters.
https://www.aare.edu.au/blog/?p=6879
Describe a way that virtual reality or augmented reality could support learning in a topic you have taught, or in a topic you are interested in. What advantages would VR or AR provide for student learning? What are some possible challenges?
What issues can you see with VR and AR development? Should educators take a DIY approach to developing VR and AR, or should institutions and school districts dedicate resources to profession VR and AR development?
Once you've added your responses in the discussion topic, read those from other particpants and respond as appropriate.
Readings and Resources
Introduction to EDDL 5131 [Video]
Southgate, E. (2020). Virtual Reality in school education: Australia leads the way with groundbreaking research. EduResearch Matters.
https://www.aare.edu.au/blog/?p=6879
WordPress for EDDL. (2017, December 31). In Kumu wiki. https://kumu.tru.ca/WordPress_for_EDDL